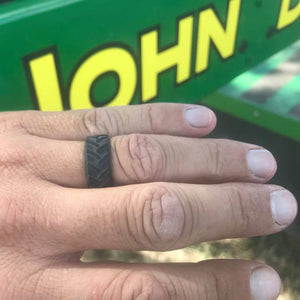 COMFORTABLE
All day, Everyday.
SAFE
Wear with confidence.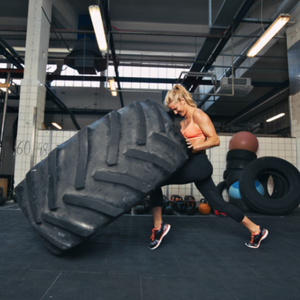 STRONG
Fear the Tread!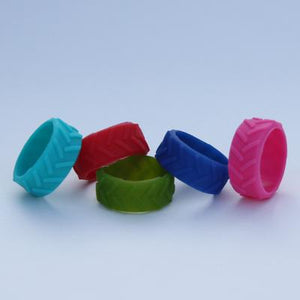 ... AND COOL
Available in your favorite color!
Our rings are built tough, just like you are. Not only are they safer and more durable than a traditional metal band, they also come with a 1-year guarantee! If your ring breaks or tears in any incident for any reason, we'll replace it within one year of your original purchase date. No questions asked.
Our Story
My name is Greg Myers. I grew up on the family farm and ranch in Southwest Kansas where I enjoyed driving tractors, combines, various other equipment and helping raise cattle. After high school, I attended Kansas State University and became a veterinarian. My first job led me to Texas where I still reside today with my wife and two sons.  

Learn More
I got my husband this ring along side a traditional one. He absolutely loves his tractor tread ring, wears it everyday but Sunday. Thank you for providing such a high quality and unique ring.
My husband loves his ring!! He was so excited to get it and wear it. He has been telling all his co-workers about it. Thank you Greg for this neat idea!!!
Tami
Thanks, I love my new ring. What a cool idea. It fits and looks great.
Brian 
My fiancé loves his new tractor tread ring! Thank you so much!
Brooke 
Ring is super comfortable and looks cool too. I have other silicone rings, and this one is by far my favorite!!
Amy 
Got mine yesterday. So far I love it. It looks cool and well made. Thanks, I love it.
Austin 
It served it's purpose and broke instead of breaking his fingers while working on a tractor.